Mercedes von Martritz
Adopted daughter of a merchant from Fhirdiad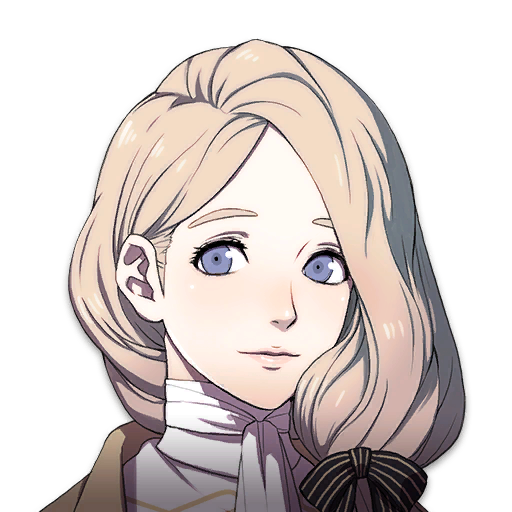 volume_up

 I hear she was born to Imperial nobility, but a twist of fate brought her to the Kingdom.

volume_up

 She may seem carefree on the surface, but she's actually a kind soul who pays careful attention to everyone around her.
Affiliation
Holy Kingdom of Faerghus
Gender
Female
Age
22
Height
169 cm, 169 cm
Birthday
5/27 (Harpstring Moon)
Crest

Minor Crest of Lamine
A Minor Crest inherited from Lamine of the 10 Elites. Occasionally conserves uses of recovery magic.
Interests
Likes
Sweets, needlework, ghost stories, adorable things, painting, reading, fragrant flowers
Dislikes
Spicy foods, exercise
Personal History
Part I
Year
Details
1157
Born the daughter of the late Baron Martritz.
Mother is remarried to Baron Bartels. Younger brother, Emile, is born the next year.
1167
Leaves House Bartels with her mother and lives at a church in the Eastern Kingdom.
1180
After many twists and turns, enrolls at the Officers Academy at Garreg Mach.
Part II (Not Crimson Flower)
| Year | Details |
| --- | --- |
| 1181 | Returns home to the Kingdom capital and joins the merchant business. |
| 1185 | Remembers the promise made five years ago and returns to Garreg Mach. |
Part II (Crimson Flower)
| Year | Details |
| --- | --- |
| 1181 | Returns home to the Kingdom capital and helps with the merchant business. |
| 1185 | Joins with the Black Eagle Strike Force at Garreg Mach. |