Dimitri Alexandre Blaiddyd
Crown prince of the Holy Kingdom of Faerghus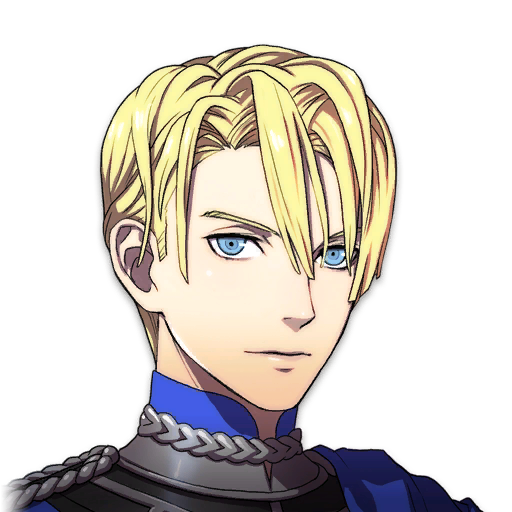 volume_up

 Me? Oh. Um. Please forgive me... It's difficult to open up on the spot, don't you think?

volume_up

 I'm afraid my story has not been a pleasant one... I do hope that doesn't color your view of me, but I understand if that can't be helped.
Affiliation
Holy Kingdom of Faerghus
Gender
Male
Age
17
Height
180 cm, 188 cm
Dimitri (child): 145 cm, 145 cm
Birthday
12/20 (Ethereal Moon)
Crest

Minor Crest of Blaiddyd
The royal family's Minor Crest, inherited from Blaiddyd of the 10 Elites. Occasionally doubles Atk and weapon uses for combat arts.
Interests
Battle training
Weapon maintenance
Likes
Combat, high-quality weapons, strength training, going for long rides, physically laborious work
Dislikes
Delicate work, fragile objects, scorching heat, selfish people
Personal History
Part I
| Year | Details |
| --- | --- |
| 1162 | Born the eldest son of Lambert, king of Faerghus. |
| 1176 | Sole survivor of the Tragedy of Duscur. |
| 1178 | Serves as a distinguished commander in the suppression of a western Kingdom rebellion. |
| 1180 | Enrolls at the Officers Academy at Garreg Mach. |
Part II (Not Crimson Flower)
| Year | Details |
| --- | --- |
| 1181 | Escapes the coup of Fhirdiad and becomes a vagrant. |
| 1182 | Begins murdering Imperial generals/soldiers controlling former Kingdom territories. |
| 1185 | Pursues Imperial troops and ends up at Garreg Mach. |